Tuts+ Premium has just released a brand new course produced by myself along with my company Hello Studios. "Producing Great Video" will take you through all the basics of video production with more than two and a half hours of training. We partnered with some friends of ours to create The Laptop Conspiracy which we use as an on-going example throughout the tutorial series.
---
Producing Great Video

Introduction

In this course, the team at Hello Studios (Adam, Jake and Jonah) will take you through all the essential steps required to produce great video.

Throughout 50+ easy to digest lessons you'll learn about writing a script, developing your project, managing the production, using cameras, directing, shooting and lighting techniques, sound, editing and post-production. Examples are illustrated using a short film shot especially for this course: The Laptop Conspiracy.

A "Must Watch" for beginners, this course is stocked full of everything you should know about the basics of video production.
---
Watch:
The Laptop Conspiracy
A fun short film created as a running example of all the techniques taught in the course, watch The Laptop Conspiracy to get a preview of the kind of video you'll be able to make with the knowledge gained from Producing Great Video.
---
Course Overview
Writing Your Script (Preview Videos: Introduction, The Laptop Conspiracy Short Film)
Developing Your Project
Managing Your Production
Camera Parts and What They Do (Preview Lesson: Camera Functions)
Camera Work and Shooting Principles (Preview Lesson: Camera Movement)
Lighting Your Scene and Subjects (Preview Lesson: Backlit Video)
Directing Actors and Crew (Preview Lesson: Film Language)
Recording On Location Audio (Preview Lesson: The Art of Booming)
Editing Principles
Post Production Sound
Effects and Motion Graphics
---
Watch the Full Course!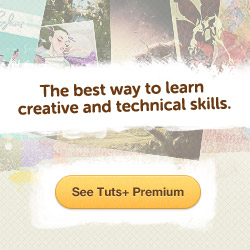 The recently re-launched Tuts+ Premium is a service that provides top-tier training in a variety of creative fields. Whether you prefer eBooks, visual training, or in depth tutorials, we have you covered. While we unfortunately can't afford to provide the service for free, it's only $19 a month - less than you'd spend on dinner.
Become a Tuts+ Premium member to access Producing Great Video